First Experience Document! Creampie! Even Though My Virginity Was Cumming...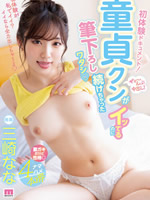 Actress :

Nana Misaki

Update :

11/10/2023

Resolution :

1920 x 1080

Size :

1.78 GB

Time :

02:35:15

Format :

MP4

Categories : OL & Cosplay
+ Larger Image
Description : Nana Misaki, a beautiful girl with a good personality who loves mischief, has her first 4 brush strokes! Moreover, it is a creampie special! "Cherry Boy is so cute..." Nana-chan responds to the wishes of virgin girls! I ejaculate so much that it explodes! ? Cosplay H in a nurse costume! Blame the M man for chasing! Sweet lovey-dovey SEX! The man squirts in agony! Please enjoy Nana-chan who is tickled by motherhood and tortured hard by four innocent virgins!