Iron Hook Pussy Tearing Incontinence Torture Beautiful Teacher Convulsions...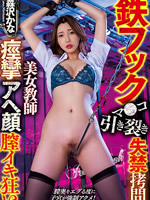 Actress :

Kanako Iioka

Update :

08/10/2023

Resolution :

1920 x 1080

Size :

2.05 GB

Time :

02:12:21

Format :

MP4

Categories : OL & Cosplay, BDSM
+ Larger Image
Description : The uterus is Gangbang every time I pull the back of the vagina with an iron hook Acme! Many times incontinence orgasm while beautiful teacher convulsions in the vagina Boko attack! Furthermore, if you hang the iron array and tires, the intense pleasure will hit the G spot directly and you will fall into a humiliating female! "Please! Pull it out already!" Morisawa is overflowing with a good woman's aura even with an iron hook in her crotch. The best Ikase torture that such an erotic woman leaks and goes crazy!