A Man Who Can Stop Time Really Existed! ...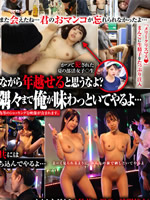 Actress :

Amateur

Update :

02/10/2023

Resolution :

1920 x 1080

Size :

2.32 GB

Time :

02:16:21

Format :

MP4

Categories : Amateur, OL & Cosplay
+ Larger Image
Description : Happy! new! Iy…. A disturbing 'silence of time' bursts out at the end of the year countdown party. At the end of the year 2022, SOD was closely interviewing Tokitome Matsumoto, the man who can stop that time. Aiming at couples who are in the mood for the end of the year and women who flirt, this year you can stop time and do whatever you want!