Squirting Is Forbidden - But Can She Make It Through All Three Fucks......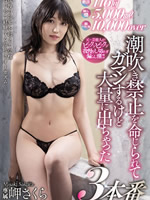 Actress :

Sakura Misaki

Update :

04/10/2021

Resolution :

1920 x 1080

Size :

3.13 GB

Time :

01:58:39

Format :

MP4

Categories : OL & Cosplay
+ Larger Image
Description : Although it was easy to feel, the director ordered "No squirting". Former entertainer can't stand Bikkun Bikkun and leaks the tide! Sensitivity doubles with the pee effect (pee patience effect)! A joyful injection when the limit is exceeded! Squirting orgasm in a state of leaking Dada! Even if I put my personal bag or mobile phone in front of me, I couldn't stand it and bukkake it!