Sexy Costume Non-Nude Erotica Star Akua Yamazaki Can't Resist Her Gropers...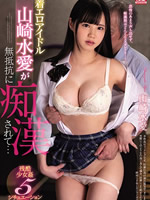 Actress :

Mizuai Yamazaki

Update :

03/10/2021

Resolution :

1920 x 1080

Size :

3.21 GB

Time :

01:58:37

Format :

MP4

Categories : Bigtits & Titsjob, OL & Cosplay
+ Larger Image
Description : Too pure wearing erotic idol'Aqua Yamazaki'is deceived by dirty men ● First time with plenty of immorality ● Work! A beautiful girl secretly rubs her ass on a train, office, or library, or rubs her ass on her body, and acts that cannot be done in a public place, and she gets stuck without making a voice because of fear. A girl who seems to be sober from the side of filthy ● is a good target! Slut ● becomes more and more radical and the beautiful girl rubs her big tits directly and suffers the ultimate sexual harassment damage when Ji ● Po is inserted!