A 19-Year Old Fresh Face Beautiful Girl With Supple Skin Is Making Her Adult Video Debut!!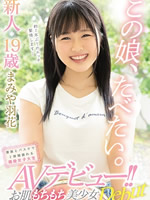 Actress :

Haneka Mamiya

Update :

10/10/2020

Resolution :

1920 x 1080

Size :

3.63 GB

Time :

02:13:17

Format :

MP4

Categories : Bigtits & Titsjob, Schoolgirl, Teen
+ Larger Image
Description : A smiling smile on the body that seems to be comfortable to hold! A 19-year-old female college student who has attractive boobs of just the right size is making her AV debut! !! She seems to love manga and happily talks about wanting to have sex like a naughty manga, and she is also good at basketball! When it comes to hobbies, the story doesn't stop for 2 hours w Exposing the white and smooth young skin that the actor also praised, SEX shyly! Sensitive daughter with plenty of liveliness rolls up even with 3P that I wanted to try!