I Got Stuck In My Shut-In Classmate's House And His Family Made Me...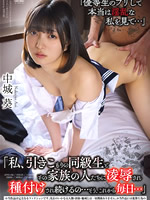 Actress :

Aoi Nakajo

Update :

09/10/2020

Resolution :

1920 x 1080

Size :

3.07 GB

Time :

01:54:52

Format :

MP4

Categories : BDSM, Group & Gangbang
+ Larger Image
Description : Aoi, a female student, visits the house of Kenichi, a classmate who is hikikomori. It was an urgent task imposed by the teacher because he was close to the house in order to deliver the prints etc. that were on Kenichi's desk. However, it was a man named Kenta who called himself Kenichi's father. Kenta who calls his son "a poor kid". Aoi gets angry at the words and enters Kenichi's room, ignoring Kenta's restraint. Kenichi laid down his body as he saw Aoi. And the man and Kenta who were in the room also joined the act....