SOD Female Employees The Caretaking Seminar These Girls Came To The Old Folks' Home...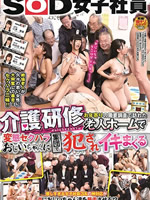 Actress :

SOD Female Staff

Update :

03/10/2019

Resolution :

1920 x 1080

Size :

3.35 GB

Time :

02:00:13

Format :

MP4

Categories : OL & Cosplay, Group & Gangbang
+ Larger Image
Description : Three young SOD female employees challenge recreation and nursing in order to cheer me up as a market research for grandparents living in nursing homes! However, after touching a young and cute woman after a long time, grandparents with fire were unable to endure sexual harassment! If the employee was dealing with God, they got into a group with a momentary unlucky grandpa!