The More You Cum The More Pleasure You'll Get!! Swirling And Rollicking Cleanup Blowjob Pleasure...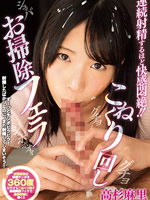 Actress :

Mari Takasugi

Update :

08/10/2018

Resolution :

1920 x 1080

Size :

3.16 GB

Time :

01:58:37

Format :

MP4

Categories : Schoolgirl, Bigtits & Titsjob
+ Larger Image
Description : Mari Takasugi who appeared to love cock on the second popular cleaning blowjob planning appeared! ! Sensitivity state after ejaculation Turns cock 360 degrees in a crowd Re-erecting with a cleaning blowjob! ! There is no relationship between wise men, twist, suction, repetition, and kneading which leaves the sperm of the gold ball about so that dicks can be taken! ! Semen that came out is entangled in cock and goes on! Lead to continuous ejaculation, thoroughly without thorough endure pleasure piss suffers in agony! !