A Female SOD Employee Satsuki Aizawa (23 Years Old) Her Last AV Performance!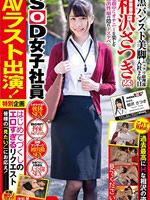 Actress :

Satsuki Aizawa

Update :

07/10/2018

Resolution :

1920 x 1080

Size :

3.51 GB

Time :

02:11:19

Format :

MP4

Categories : OL & Cosplay, Group & Gangbang
+ Larger Image
Description : Aizusatsu Aizawa popular in the company as a clean, bright and cheerful girls employee. She also appeared on the occasion of having acted as a masturbation during work, and she also appeared last time in this work. At the end we responded to the request sent to SOD to satisfy everyone's desire. Blush on the request too shamefully many times! Invite a large number of users and thank you for the public SEX!