Meet And Greet And Instantly Fuck! An Instant Orgasm! Immediately After The Creampie Cum...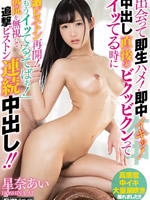 Actress :

Ai Hoshina

Update :

07/10/2018

Resolution :

1920 x 1080

Size :

3.18 GB

Time :

01:58:16

Format :

MP4

Categories : Creampie, Group & Gangbang
+ Larger Image
Description : Ari-chan, the 6th popular series! ! Because he complained "I forgot to shoot!", I will not stop even if I resist it I have never seen it with an extremely violent piston! Even if it says "Even ... I am satisfied already!" Pursuit! ! Mako who became slimy with continuous cum shot, I got tasted the pleasant pleasure that I cheered more convulsion when I got even better as the sensitivity further increased!